---
Finished solid oak Glass top Fossil table, 14 inches deep x 6 foot long To order one, email to alert1@cyberstreet.com or fireplum42@yahoo.com














---

110809: Sand Pit Point, just under the surface- popped right out when poked. Looks like it was Resharpend to a nub.






052009: Resharpend Newnan sliding down the sand bank





052009: Killer Newnan laying out in open white sand, almost same color







061109: First time ever found a point sticking right out of the side wall of sand pit.....nice



Kim's find for the day, all one tank..........







061409: Ocean dive, Nice Megs- one is almost five inches, a mammoth tooth, and a nice whale tooth


061109: Finally found a point sticking out of the sidewall of a pit.......butt first







060509: New finished cabinet, full of fossils and artifacts from one dive, from 052101 in the Suwannee river







060109: New cabinet under construction



052009: Sand pit points- 2 nice Newnan's and a chopper?......
The big beautiful Newnan was missed by Jenna, walked right around it- it was the same color as the sand......
I found it 5 minutes later, sorry babe.





051909: Building new cabinets for all the fossils.











050309: Underwater photos of some fossils and teeth.











050309: River recon, nice fossil spot and Beautiful river.




043009: Fossil trip to previous good site, found more goodies- plus a gator - three times
Awesome Mammoth vertebra.











042609: River dive, went to the Peace river to recon, the Whole Tampa Bay Fossil Club was there................
But we still were able to find 50 plus horse teeth and more camel, bison, megs, mammoth and mastadon teeth.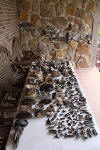 041709: Look at all the fossils........







041609: River Recon, almost thought I found a silver bar.............but I think it is just a lead bar- oh well!
Did find a giant whale vertebra and some megs.






041009: River recon, walked right over to the deep side and picked up a real nice Mammoth tooth.
Just as some fossilers in canoes went right passed by. They still don't know what they missed.
and then Antlers, Horse teeth, and a nice whale tooth.











040909: 3 big Gobblers walked right down the bank in front of the boat, 50 feet away!





040309: Sand pit Levy point, super nice........and a few dives worth of stuff




040209: All eyes on the river, looking for the next great spot full of megs......






Nice whole Mammoth tooth laying in the wide open water





Leg bone, rib bone, tooth, megs, awesome vertebra, horse teeth.








033109: River recon, and found a few megs......






033009: Airboat rebuild all done.....Nice job.
If you need an aircraft motor rebuilt, call Tom Jeffords Airboats.



032509: Shop full of this seasons fossils..........







032109: Suwannee River Mammoth Teeth, just laying on the flat limestone, out in the open.




031509: Found a new spot on river, got blasted by 50 airboats.......and literally ran right over me in 4 foot of water, twice!
Got some good stuff, biggest gator osteoderm I have ever seen, big whale tooth, 100 year old brass valve, nice teeth too.






031009: Sweet stuff, nothing real big, but allot of it......



That's nice, finally pull out a 5 3/4 incher and its broke in half...........but wait for it .........4 plus years later I find the other half!!!!!





022709: Piles of teeth laying every where...............well a small pile.












Jenna found her first big tooth- 4 plus inches






022709: Under water photo's of fossil finds.
Found one of those places that had Megs laying everywhere......unusual these days.


020109: Nice stuff, found a really good spot-lots of fossils & teeth.




123108: Fossil camp on the Peace River.......great spot for fossiling and camping. Last dive of 2008.
---
04/14/2019 08:11:36 AM